Redirection is a method of automatically redirecting visitors from one website page to another, which can be done permanently or temporarily. The procedure will be explained in this article.
Follow the steps:
1. Log into your cPanel account
2. Scroll to the Domains section and click Redirects.

3. Under Add Redirect, choose whether you want a Permanent (301) or Temporary (302) redirection.
Note: The difference between a permanent and temporary redirect is that a temporary redirect won't update your visitors' bookmarks whereas a permanent one will. You cannot stipulate the length of time you wish a temporary redirect to run using cPanel. You will have to remove the temporary redirect manually when you no longer require it. The instructions for doing this are at the bottom of this page.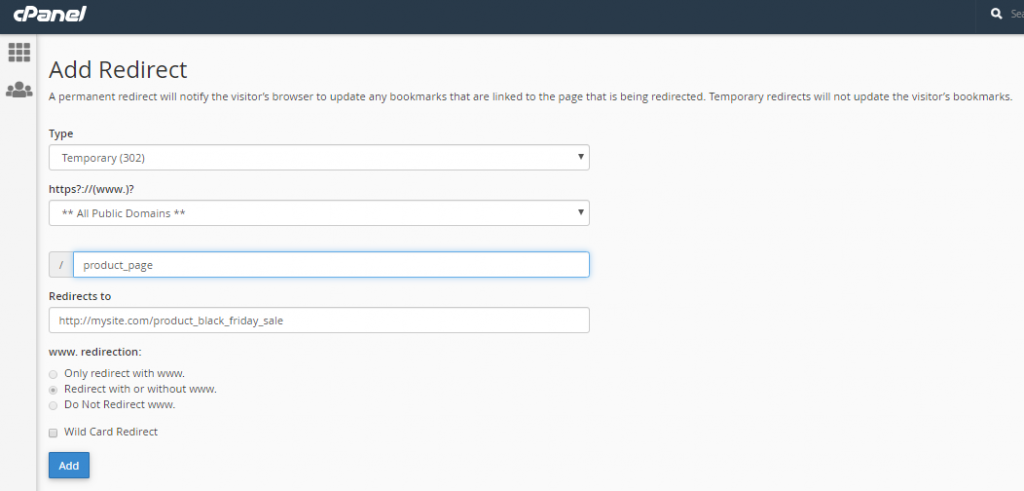 4. Next, select the domain where you want to set up the redirect. This gives you the option to run it on all versions of your domain **All Public Versions** or on individual versions such as http://website or http://www.website.
5. Under this, type in the name of the web page you want to redirect from.
Note: If your page URL is http://www.mysite.com/product_page, there's no need to type the domain name part of the URL, just the part following the slash, e.g. product_page.
6. In the Redirects to the field, type in the full URL (e.g. http://mysite.com/product_black_friday_sale) of the web page where you want visitors to be taken to.
Note: this doesn't have to be on the same website.
7. Finally, click Add and the redirect will be created. From this point, visitors to your redirected page will be taken to the new destination.
How to remove a redirect
A redirect can be deleted if you no longer want to use it. To do this, first, return to Domains > Redirects. Once there, find the redirect you want to delete under Current Redirects and then click Remove.
Note: As you cannot edit a redirect, you will need to delete it and create a new one if you wish to make changes.