How to Add and Configure an FTP Account in cPanel
FTP accounts enable you to upload and manage files on your website. This article explains how to create a new FTP account in cPanel and configure it to limit the directories and files the user has access to.
To create an FTP follow these steps:
1. Log in to cPanel.
2. Scroll to the Files section and click on FTP Accounts.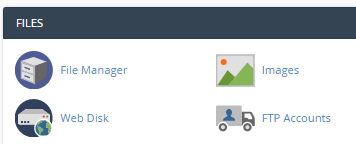 3. When you enter the FTP Accounts page, you will see the following form: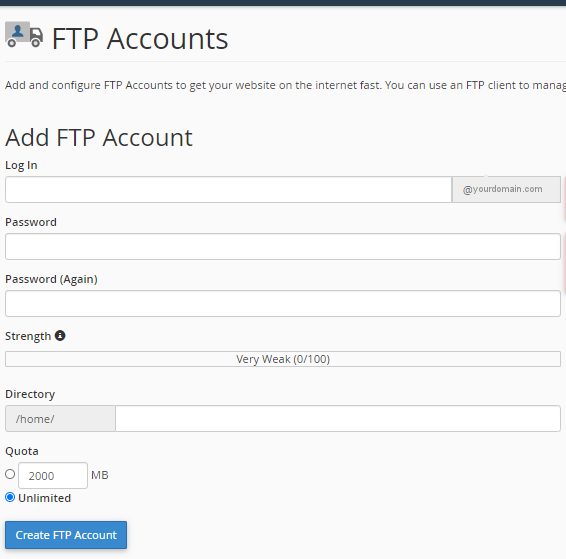 4. Firstly, add the username of the new user in the Log In field. Please note that the username is created in the same format as an email address. The @yourdomain.tld part of the username is added for you.
5. Enter a password in the Password field and confirm this in the Password (Again) field. The user will need this to log in to their FTP account. We highly recommend using the Password Generator to create a strong password.
6. The Directory field is where you configure the directories and files to which the new FTP user has access.

7. Important! By default, cPanel auto-populates this field. However, the default directories listed may not be the ones you wish the user to have access to. For the security of your website, it is important to replace the default directories with the specific directory you want the user to have access to.
If you leave the Directory field blank, the user will have access to your home directory and every subdirectory and file within it. Additionally, if this account holder's username and password fall into the hands of bad actors, they too will have access to your complete home directory. For this reason, we strongly recommend limiting home directory access privileges to essential admin users only.
8. In the Quota field, you can set a quota for the maximum amount of bandwidth that the new FTP account can use. If you set the quota to unlimited, the user will be able to use all the bandwidth for your cPanel account and this could affect the performance of your website. You can prevent this by limiting the bandwidth.
9. Once you have completed filling in the details, click the Create FTP Account box. The account will then appear in the FTP Accounts list at the bottom of the page.
For more help with cPanel, visit the ewebhostingstore of our knowledgebase.