Student Webhosting Services:
Student Webhosting Services is the latest erupted service in the Webhosting industry If you are a blog writer, performing an experiment with code, revealing a portfolio, or just have started with your new online business. In such cases, you don't want to invest a lot in hosting when you're a student on a budget. Hosting industries comes up with several offers for you to take an advantages of your student status in order to save your money. Now a days every hosting companies are aware of Student market over the Student Webhosting industries.
What exactly Student needs when it comes to Student Webhosting
1) Affordable Rates: When it comes towards the Hosting Services for Student then Webhosting companies are aware of Student budgets and there academic portion considering the same all the rate of Student Hosting Services are maintain and it start with Max $ 0,06 per month. Free hosting option is also available with Ewebhostingstores which comes under subdomain facility for Students.
2) Site Builder: Along with WordPress there are many more Sitebuilder which helps student to build up there blogs, portfolios, and informational website to showcase . When it comes to Ewebhostingstore we provide Sitepad Side builder which offer 500+ Professional Themes for student.
3) Software and Updates : To host or to create programming codes hosting panel includes all the necessary software with one click installations which avoid times and further manually hectic installations for Students. Ewebhostingstore offers cPanel under every hosting services including Student to install required software and manages there academic task.
4) 24×7 Support: Last but not least 24×7/365 days of truly Support for student with regards to Sales, Billing and Technical Support are the backbone of every Hosting Industry. Ewebhostingstore is available on Chats, Calls and Tickets to each and every student who signup with us.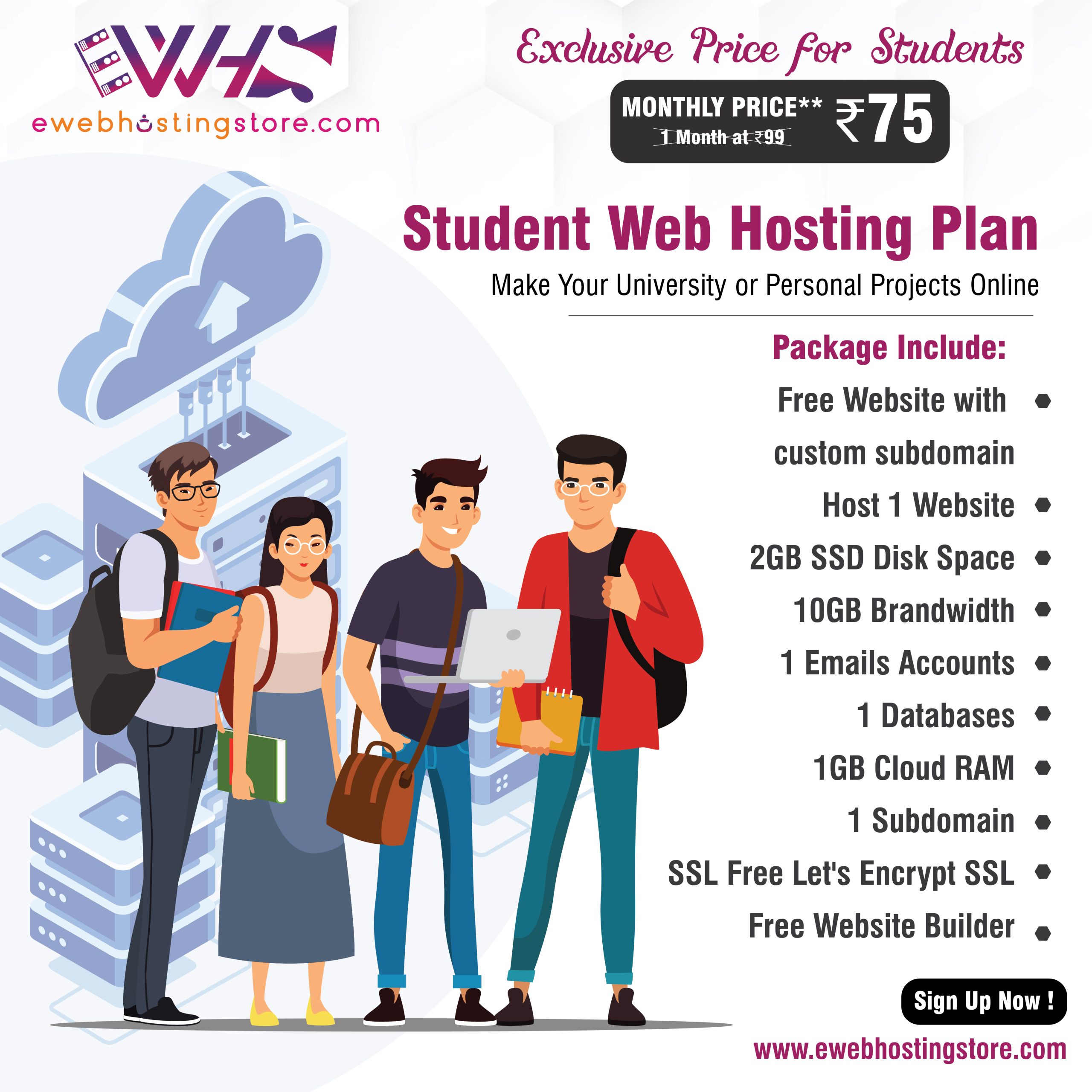 FAQ:

a) Is Student Hosting Safe?
Yes, Student Hostings are always safe and sometimes it depends upon the reputation of the company which you select. Ewebhsotingstore strictly deal with Privacy with our Customers.
b) What would be the basic costing of Student Hosting?
Apart from Domain cost, hosting charges starts from Max $ 0,06 per month and depending upon the Student requirements plan can be upgraded to any of the professional plan available on Website.

c) What type of panel will be provided with Ewebhostingstore Hosting?
cPanel the most commonly used control panel is provided with Ewebhostingstore Student Hosting Services.
d) What type of operating systems are available with Student Hosting Services?
Student can choose any of the following operating systems for their server: Ubuntu, CentOS, Debian, FreeBSD, Gentoo, OpenSUSE, which are freely available. For Microsoft Windows Server (all versions) charges may be applied as per the license cost.