How to Change the Primary Domain Name of cPanel in WHM
It is possible to change the primary domain name of any cPanel account through WHM. Users of VPS, resellers, or Dedicated Hosting will benefit from this article.

Note:- Please be aware of the changes that will occur if you alter your cPanel account's primary domain name.

After erasing the prior domain's DNS records, it will set the DNS records for the new domain to default values. As a result, you'll need to use Zone Editor to re-insert the non-default DNS records.
To correspond to the new domain, you must change your email address and username. Some of the material on the website will not load or display. In this scenario, contact your developer and get your website's hard links updated. If SSL certification was issued to the primary domain, you will need to reapply for the certificate for the new domain.

Let us start with the process :

1. Log into your "WHM account."
2. Click on, "Select List Accounts."

3. To change a domain, click the "+" button" next to it.


4. Click the "Modify Account button."

5. In the Primary Domain area, type "New domain name."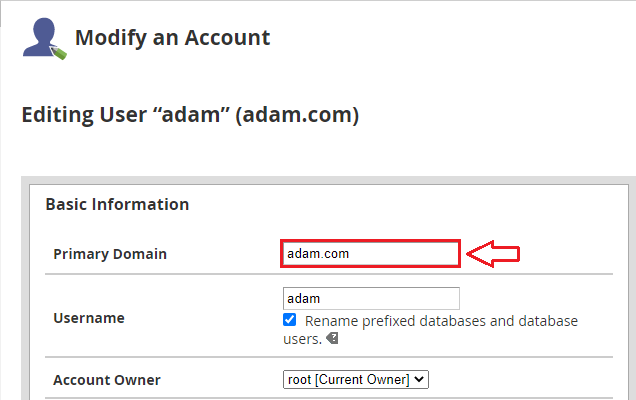 Warning: We do not recommend making any modifications to the Username field. Changing the username will break the database connection, resulting in site code and configuration issues.

6. Scroll to the bottom of the page and "Press the Save button."


Note:- That you can create an alias in the form of a subdomain or Addon domain while keeping the former domain's credentials. It will act as a temporary breakage until you make the necessary changes to the new domain name.